STREET GANGS?
A street gang is a group of associating individuals or close friends identifying with or claiming control over territory in a community, and engaging either individually or collectively in violent behaviour or other forms of criminal activity.
GANG ACTIVITY
When most of us think of the word "gang", we think of the most extreme type of gang, a group of people who routinely commit crimes and engage in acts of violence. Gang members tend to keep themselves occupied by participating in a variety of activities. Activities can vary depending on the type of gang they are and the purpose of the activity.
The majority of us know right from wrong but within gang culture their morals and values are compromised. Some gang members feel no remorse, no fear, no care in the world about the consequences or most important the effect it has on other people. It is important to know that the majority of gang members are involved in criminal activity to varying degrees. Some are involved only in low-level activity while others pose a serious criminal or violent threat.
Many gang members commit criminal acts to gain power, get recognition or set territorial controls in communities. In addition, youth gangs differ in size structure, sophistication, age range, racial and ethnic diversity and gender. Below are examples of some activities gang members may indulge in with their members:
Involvement in graffiti and vandalism
Experimenting with drug taking and drinking alcohol
Selling drugs
Robbery/ stealing from people , shops, cars and homes
Prostitution or sexual exploiting young women
Having casual which could be unprotected sex
Carrying weapons and experimenting with weapons
Gambling
Forgery
Children as young as 10 years old are being groomed to commit criminality for older gang members. As parents and guardians you can challenge your child on their whereabouts, remember you are responsible for their wellbeing… so you have a right to ask questions.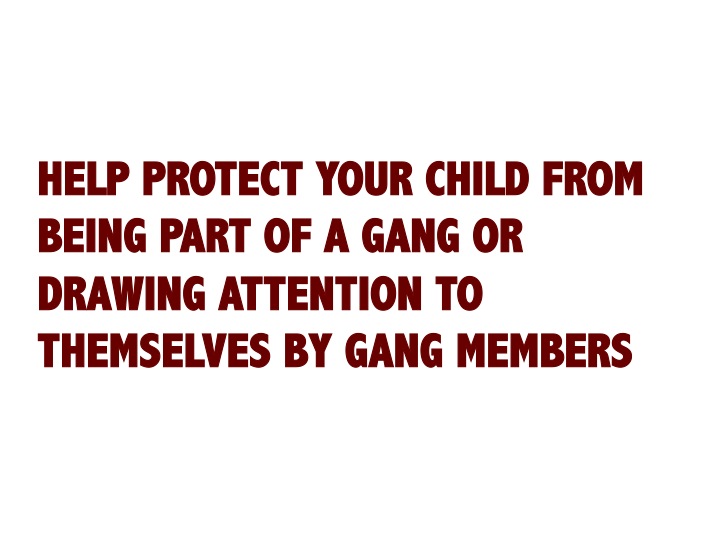 ADVISE YOUR CHILDREN THEY SHOULD NOT
Associate with known gang members or 'wannabe' gang members
Identify or communicate with gangs
Hang out near or where gangs congregate
Approach strangers in cars who appear to want information or directions
Wear gang-affiliated clothing where gangs are known to gather or pass through
Use gang associated code words
Attend any party or social event sponsored by gangs or their associates
Take part in any graffiti activity or hang around where graffiti is present
Use any kind of finger or sign language in a public place.
TIPS FOR PARENTS
Educate your child about the consequences of being in a gang.
Highlight the importance of achieving good grades in school.
Spend quality time with your children.
Show interest by getting involved in your child's school activities/ hobbies.
Establish rules, set limits and be consistent, firm and fair in discipline.
Respect your child's feelings and attitudes and help them develop self-esteem.
Be a good listener and try to understand their mindset.
Listen carefully to your childrens choice of words.
Communicate with them about their concerns and fears.
Watch closely for negative influences.
Try to get to know your childs friends and their parents.
Learn to lean on other people and talk about your concerns, sometimes it is hard to handle and balance our stresses on our own.
Improve your own self-esteem so your children can model themselves after the most important 'role model', YOU.
You may have a child that will not openly express their thoughs and feelings to you, we have found that having a mentor or someone unrelated can open the door for them to talk to someone rather than suffer in silence. If you would like a mentor for your child contact the helpline on 0800 032 9538. Also take advantage of your local community facilities by researching youth clubs they could attend. There are other organisations which can help and support you. See the links below for further information.